The Concordia Foundation
Our vision is to achieve exceptional philanthropy for health, housing and research, enabling Concordia to be a leader in exemplary care, innovation and academic excellence.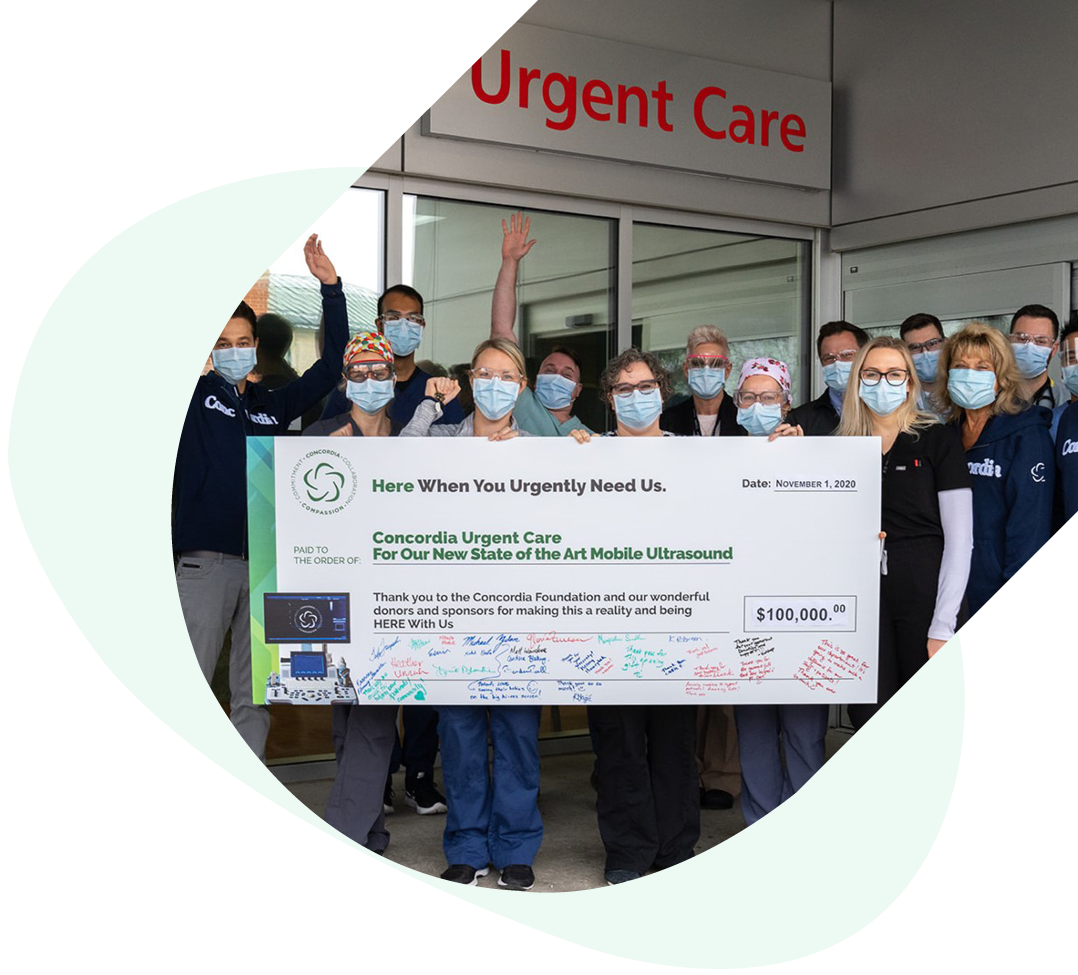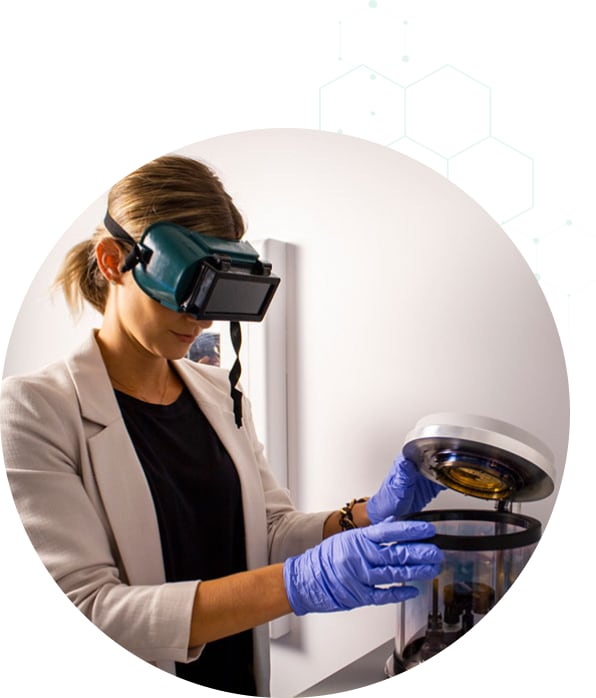 Success Stories
With your support we can achieve great things!
Ultrasound Campaign

"Ultrasound use has become the standard of care in emergency and urgent care practice. For many physicians, this form of technology acts as a key vital sign that helps guide patient care. Without it, physicians would be working blindly in many circumstances, something that just shouldn't happen in our day and age." – Dr. Tyler Laycock, Concordia Urgent Care
Day Surgery Renewal

This campaign supports our Front Line Workers in this most tangible way. They continue to work day after day to help our patients and families. They are here for our community. The Concordia Foundation has declared our full support for this project by resolution. The Golf Committee jumped at the opportunity to adopt this project for the 2021 tournament.
Arthroplasty Research Chair

The goal of orthopaedic research at the Concordia Campus is to continue pushing the boundaries of how medicine improves the lives of people suffering from joint pain, poor function, and limited mobility. The research we conduct helps us to meet the growing needs of our patients while invigorating the community, growing Manitoba's economy, and advancing orthopaedic care on a global scale.
Simulation Based Learning

There is an increasing recognition in health that indicators of clinical deterioration such as abnormal vital signs are being missed. Evidence also suggests a lack of organization and knowledge regarding how to manage clinical deterioration. Studies show that 85% of all in-hospital cardiac arrests are preceded by undetected signs of deterioration.
Surgical Care for Joint Replacement

Concordia serves over 2500 patients a year from Manitoba and parts of Ontario, Saskatchewan and Nunavut. Hip and Knee replacements are more effective at improving quality of life than any other surgery. The need for hip and knee replacement surgery is greater than ever. Before COVID-19 there was already a wait list. When we paused surgeries to comply with public health orders, that listed grew and grew. We have a bold vision to reduce wait lists and serve more patients. Joint problems affecting the hips and knees make life miserable for millions of Canadians each year. We are increasing our research capacity and now our surgical capacity with the help of our donors.
Stepping EVEN Farther
The Concordia Foundation is thrilled to thank the Kothari Family for their amazing generosity that has helped us Step Even Farther as we complete the project that will transform surgical care for joint replacement at Concordia Hospital.
Their gift of $150,000 brings us closer to the total needed to complete the surgical unit – called OR#5 – that will give us a state-of-the-art operating room as well as allow us to expand our capacity for up to 1,000 more surgeries per year for joint replacements.
The impacts of this project will reduce wait times for surgeries, optimize patient outcomes and ultimately improve the quality of life for people living with debilitating pain.
The OR is scheduled to be in use by April 1, 2023 and construction has begun for this critical project.
This gift brings hope to so many people.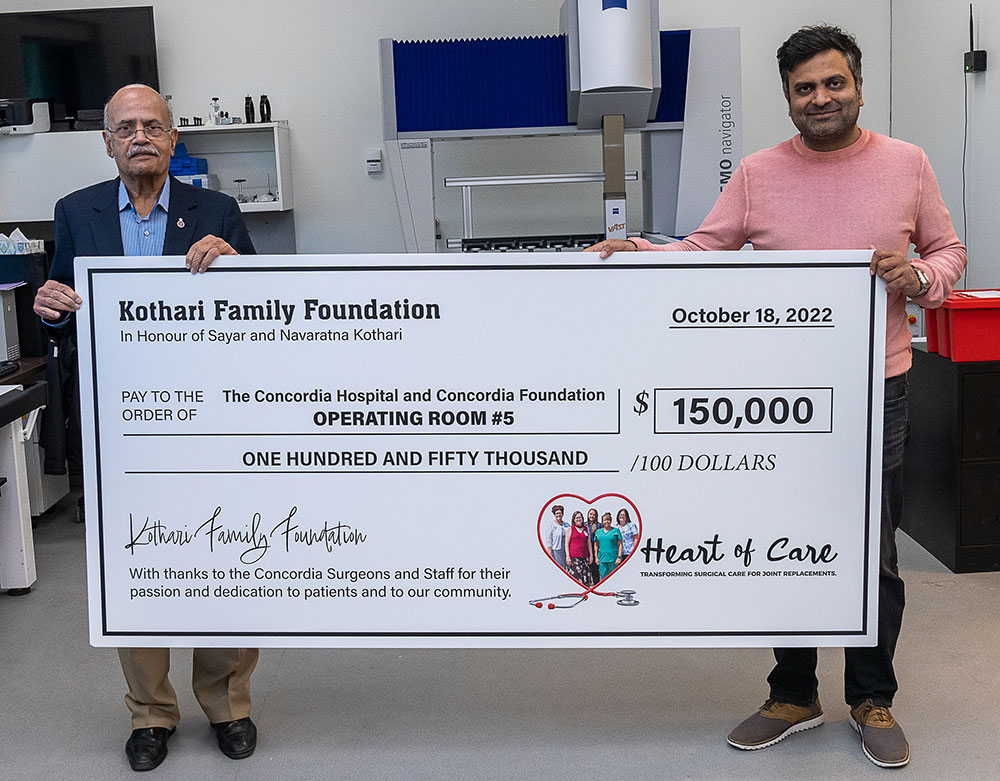 Purpose and Values
Concordia is a thriving community campus serving the needs of all who enter its doors
Concordia Foundation's mission is to raise funds and manage donor gifts that support outstanding clinical care, long term care, research, wellness, and housing services for the community we serve.
With your support we have achieved great things!
Established Concordia ChildCare Centre in 2009
Established Arthroplasty Research Chair in 2020
Established Simulated Learning Lab program (SIMS) in 2021
Established relationship with Orthopedic Innovation Centre (OIC)
Concordia Place, 140 bed long term care facility
Urgent Care and Operating Room Development
Established Concordia Hip and Knee Institute in 2009
Concordia Community Clinic and Pharmacy established in 2013
Purpose
Honouring Concordia's Mennonite Heritage and Christian faith foundation, we offer healing and hope, serving the whole person and the whole community, with a spirit of compassion and grace.
Values
Commitment
We commit ourselves to the ongoing pursuit of excellence and to caring unconditionally for one another and the community we serve.
Compassion
We are dedicated to caring for the people we serve and each other with compassion, respect and grace.
Collaboration
We engage with a spirit of collaboration with the people we serve and the people with whom we serve.
Frequently Asked Questions
Find answers to some common questions
Will I get a tax receipt for my donation?

The Concordia Foundation Inc. is a registered charity and is authorized by the Canada Revenue Agency to issue official receipts for income tax purposes. Our registered charitable number is 1306 3336 RR0001. Please call us for more information at 204-661-7443. Please note that we do not issue charitable tax receipts for the purchase of raffle tickets, merchandise, or sponsorships for events.
I would like to donate by cheque. Who do I make it payable to?

Please make your cheque payable to The Concordia Foundation, 1095 Concordia Avenue, Winnipeg, MB R2K 3S8. Please designate your donation and we honour all designations such as a donation for Concordia Place, Operation Walk Manitoba, Arthroplasty Research. Your receipt will note your designation.
I am interested in making a gift of securities. How do I do that?

The first step is to talk with your financial and legal advisor to determine the best approach and timing for your personal or corporate situation. You can then call or email us to discuss how you wish to make this donation. Our policy is to sell securities that are donated, on the same day and a receipt is issued to you for the sale. We can offer an easy online approach that is secure on CanadaHelps.org. by clicking here.
How do I make a memorial donation or a tribute gift?

This is a meaningful way to memorialize a loved one, a friend or public figure. A tribute gift can also be a meaningful way to remember a birthday, an anniversary or special occasion. The Foundation will send a personalized card in your name to the recipient or family member and a tax receipt is issued to the donor. We do not reveal the amount of the gift unless you indicate you want us to do so. You can make an easy online tribute gift here or call our office to discuss. We would love to help you!
We'd love to hear from you!
Talk To Us
Your feedback is important to us. For general information or inquiries, please call
Foundation News
Impact Stories and News
Advancing Hip and Knee Joint Replacement Research at Concordia Concordia Foundation Announces Arthroplasty Research Chair Roger Gripp, Chair…

Dr. Tom Turgeon's principal interests involve the outcome of hip and knee placement patients. He leads and participates…

Research managed by the Arthroplasty Research Chair will improve operating room efficiencies, reduce barriers to access, and accelerate…